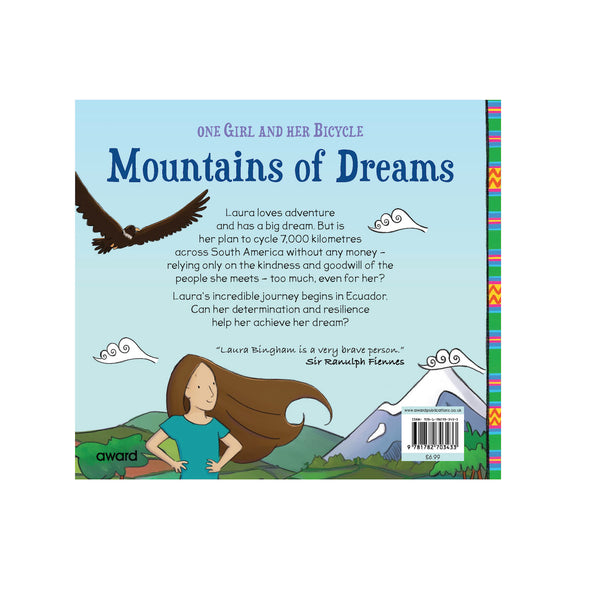 Regular price
£4.44
Sale price
£6.99
This lovely book tells the real-life story of Laura Bingham's journey across South America, an epic 7000km solo bike ride across the Andes mountains!
Laura's wish is that the story of her own extraordinary adventure, illustrated in Laura Wall's bold and evocative style, will inspire children worldwide to seek their own adventures and to always follow their dreams.
Research has shown that playing and learning outdoors can significantly increase a child's resilience, confidence and wellbeing, and the added benefits of cycling and exercise also bring well-recognised benefits for both fitness and mental health, something that Laura is passionate about.
Laura says: 'I wanted to share my experience with children in the hope of inspiring them to live a life more wild, to dream, to explore and interact directly with the environment around them. It's said that the only limitation is that of your imagination, and the opportunity to inspire a new generation of explorers, adventurers and children intrigued and fascinated by our world is so important to me.'
Why we love it
This colourful and entertaining story book will keep young children captivated whilst inspiring them to plan their own adventures.
Encourages children to get outside on their bikes, improving their confidence and wellbeing.
For every book sold, a donation will be made to Operation South America, who look after vulnerable young girls in Paraguay.
Delivery Information
UK Standard Delivery
3-5 working days (excludes public holidays)
FREE on orders over £25.
£3.99 on orders under £25