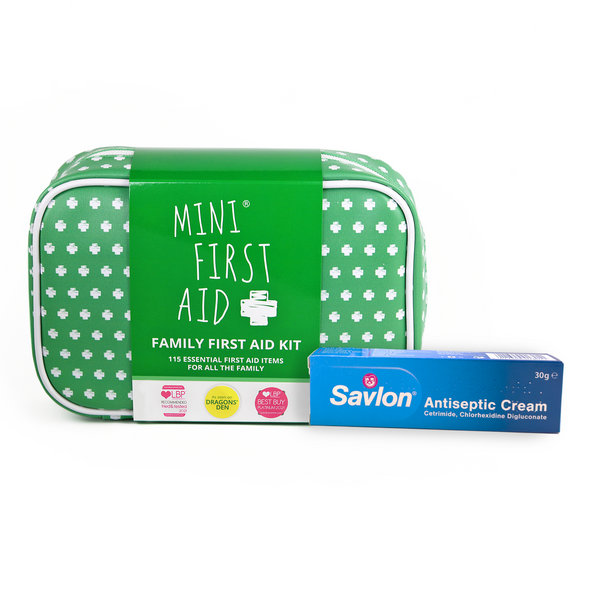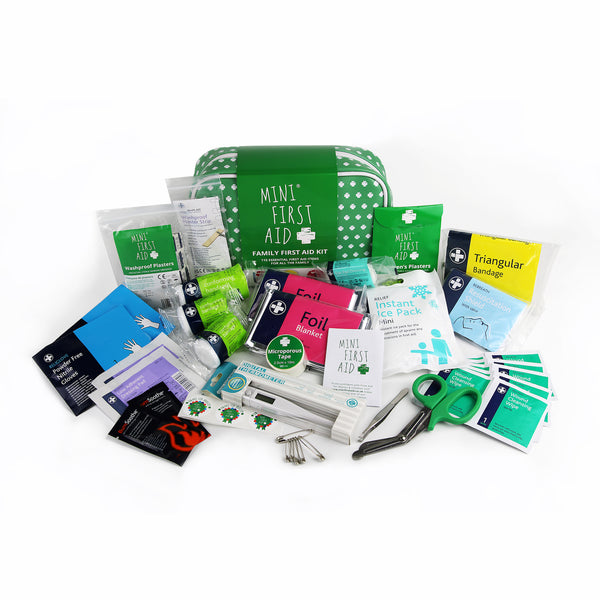 Large Family First Aid Kit & Savlon
Regular price
£27.99
Sale price
£29.19
Our award winning Family First Aid Kit with Savlon Antiseptic Cream in a great value bundle for all your first aid needs.
Savlon Antiseptic Cream 
is a first aid treatment for minor wounds and skin reactions which helps cleanse and protect minor wounds from infection.
Mini First Aid's Family First Aid Kit contains 115 items of first aid essentials, including a digital thermometer, instant cold pack and paramedics' recommended shears which cut through clothing and seatbelts.

It is ideal for keeping in your car or at home for any first aid emergencies.
The kit also includes a handy information leaflet with first aid tips and advice for treating common injuries.
1 x Savlon Antiseptic Cream, 30g
Kit Includes:
2 x Low-Adherent Wound Pads
3 x Conforming Bandages
1 x Shears
1 x Adhesive Tape
2 x Burn Gel Sachets
20 x Children's Wash-proof Plasters
40 x Wash-proof Plasters
8 x Elbow / Knee Plasters
10 x Non-Alcohol Wipes
1 x Metal Tweezers
6 x Safety Pins
1 x Triangular Bandage
2 x Foil Blanket (1 Adult / 1 Child)
2 x Pairs of Gloves
1 x Resuscitation Device
1 x Digital Thermometer
1 x Instant Cold Pack
1 x Dressing Strip
10 x Bravery Stickers
1 x Information Leaflet
Why we love it
Why we love it:
Our Family First Aid Kit with the added bonus of Savlon Antiseptic Cream
Can be used for all the family
Savlon antiseptic cream has a huge range of uses – from blisters to blackheads, spots to shaving cuts!
Delivery Information
UK Standard Delivery
3-5 working days (excludes public holidays)
FREE on orders over £25.
£3.99 on orders under £25